Nakamura

Attributes

Age
38
Date of Birth (star sign)
November 3, 1976 (Scorpio)
Blood type
O
Height
171 cm
Weight
60 kg
Hobbies/Interested in
surfing, billiards, ukulele, cooking (with a bit of alcohol as the main course)
Not good at/with
paperwork, dogs
Japanese VA
Cho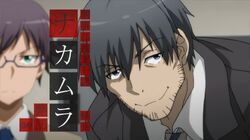 Nakamura (ナカムラ Nakamura) is a supporting character in the anime Rampo Kitan: Game of Laplace. He is a veteran criminal investigator of the Shinjuku Police Department.
Appearance
Edit
He wears a brown suit and leather shoes with a brown tie. He is normally seen grasping his midsection, although why he does this is unknown.
Personality
Edit
In Edogawa's works
Edit
There is no known equivalent of Nakamura in Edogawa's works.
References
Edit